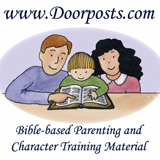 Question:
Hello, First let me say thank you for all of your wisdom and time. I have just recently started to realize that my 4 yr old is needing to learn to be thankful. She is a wonderful caring little girl, but struggling with this character trait or needing my guidance to teach her. And I was just wondering if you had some tips that you use with your children. I have started having her say something she is thankful for at her bedtime prayers, but looking for more ways to encourage her. I feel lately that all I am doing is lecturing her and it is not fun. Thanks!
Answer:
I posted a training moment in April that might be helpful you can find it by viewing:
Cultivating Thankfulness
. I have also listed a few other things we have done/do here in the Wood family.
You might have heard me talk about a company called,
Doorposts
. Over the last 20 years we have used a publication they put out called, For Instruction in Righteousness. I loved using this with the children when they were younger as an addition to our Bible reading. (We do LOTS of Bible reading, memorization and discussion around here in our home). In there you would look up a behavior you were addressing in your home. The index lists many such as pride, shifting blame, arguing, complaining, selfishness, laziness and many, many more! If you were to look up Complaining/Ingratitude on page 77 of my book (this is a very old copy) you would find a list of verses and thoughts from the author on general information about this sin. What happens or should happen to the complainer (great training ideas are given along with the Biblical reference), what the sin of complaining is likened to, the blessings of gratefulness, stories that illustrate the blessings of thankfulness and stories that illustrate complaining and ingratitude. This books is so valuable as a teaching tool, I can't recommend it enough. I have my copy in page protectors in a 3 ring binder and still you can tell it has been well used over the years. I would encourage you to prayerfully consider and talk to your husband about using this resource in your home.
Consider writing "thankful" cards to grandparents or friends just because. Typically if we can incorporate some activity with our training it will fun and well accepted.
With construction paper cut out each letter of Thankfulness and each morning have her draw a picture of something that starts with that letter for which she is thankful. For example T- she might draw a picture of a tricycle, H- she might draw a picture of her home, A- she might draw a picture of an Alligator…. and so on. Hang these down a hallway or in her bedroom where there is plenty of space and she will pass by them frequently. Enjoy this time! You're doing a great job! By the way I found that the back of bathroom doors are WONDERUL places to hang charts on subjects I am trying to teach the children.
Set the example! Make sure she hears you expressing thankfulness often!!
Another idea that I wanted to present for you to consider is allowing her to give to others in need. Often our hearts are ungrateful when we don't realize how much we have truly been blessed with. Perhaps there are some ways in your community where your little girl can participate in helping others. I use to take my children with me when my husband and I feed those that lived on the streets. In fact, often it was my four year old that helped me pack the sack lunches we would take out to the community as a family.
Often an attitude of ungratefulness comes from pride. Make sure you are watching for those signs. I would also encourage to teach her contentment. When we are content with what we have we are typically more thankful for everything God has graciously given us.
I hope some of this brainstorming with you has helped. Please keep in touch as you can. Don't grow weary in well doing… you will reap a beautiful reward!!
With much love,
Mrs. Joseph Wood