My kitchen holds some of my dearest memories of heart conversations shared between sisters, mothers, daughters, and granddaughters. Our kitchen is where our hearts are expressed through culinary arts. It is where the aprons hang awaiting the next adventure! Often when Momma comes for a visit it includes her sitting at the table with all us girls working on a scrumptious meal while teaching us recipes and tips that she was taught by her grandmother. The kitchen is one of my most favorite rooms in the house!
This week I am going to post recipes from my kitchen, per the request of my dear and precious mother! I love you Momma! Enjoy! I hope everyone else enjoys the peek into my kitchen this week as well!
Because of His Love,
Mrs. Joseph Wood
Sarah-Grace's Fabulous Banana Bread
2 Cups Sugar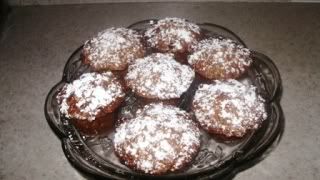 2 Cups Mashed Banana's (about 3-4 very ripe bananas)
3 Cups Whole Wheat (we use fresh ground flour)
3 Farm Fresh Eggs
1 1/2 tsp. Vanilla
1 1/2 Cups Virgin Coconut Oil
1 tsp. Baking Soda
1 tsp Salt
1 tsp Cinnamon
1/2 Cup Chopped Pecans
Mix all dry ingredients in one bowl, except for the nuts. In a different bowl mix your wet ingredients. Then add the dry ingredients to the wet mixture one cup at a time. Stirring each cup in till it is nicely blended. Once you have combined all the ingredients together then mix stir the nuts into the batter. Pour the mixture into two greased loaf pans. Then sprinkle some nuts on the top to make it pretty.
Bake in a preheated oven at 350 for 1 hour or until done. Our new oven seems to have them nicely done in 50 minutes.
We grease our pans with just a little bit of coconut oil and use our stoneware that we purchased from Pampered Chef. We also use their templates for adding designs to the top of our loaves with powdered sugar. Sarah enjoys making these into muffins as well and decorating the tops of them. Note: if we are adding the pretty designs with powdered sugar we will omit the nuts on top of the loaf. This recipe will make two loaves, not nearly enough for our family our size so we often double it without any changes or complications in the recipe.